For many years, one of the most frequently prescribed treatments for obstructive sleep apnea has been Continuous Positive Airway Pressure, a device commonly known as the "CPAP" machine. While CPAP therapy has historically been and is currently effective for many patients, the fact is that the treatment typically involves a system of cumbersome tubes, straps, and facial appliances that can make it extraordinarily challenging to sleep comfortably. Plus, the machines can be noisy, adding an extra hurdle to achieving the goal of a peaceful night's sleep. The dilemma for many patients is that, with all its faults, CPAP therapy offers an effective way to keep the airway open and reduce serious risks to health and livelihood. But the truth is: it's not the only way.Oral appliance therapy could be an alternative option for the treatment of obstructive sleep apnea (OSA). It provides patients with a much more comfortable way of maintaining clear, open breathing passages during sleep, without the many drawbacks associated with CPAP machines. The Northeast Ohio Center for Dental Sleep Medicine is the only dental sleep medicine practice in the Northeast Ohio area that focuses exclusively on non-surgical, minimally-invasive solutions to obstructive sleep apnea, with oral appliance therapy serving as the core of our treatment options. The founder of our practice, Dr. Douglas Desatnik, is an American Academy of Dental Sleep Medicine Qualified Dentist who has spent a good portion of his career honing his knowledge, skills, and experience with oral appliance therapy for sleep apnea. Dr. Desatnik and our team are committed to helping patients who have recently been diagnosed with sleep apnea, as well as those who are seeking alternatives to cumbersome CPAP machines, with advanced solutions that can address the problem without the need to sacrifice a peaceful, comfortable night's sleep.
Below, you will find more information on what oral appliance therapy is and what you can expect from treatment. If you have any questions, or if you would like to schedule an appointment with our sleep apnea dentist, please feel free to contact The Northeast Ohio Center for Dental Sleep Medicine today.
What Are the Benefits of Oral Appliance Therapy?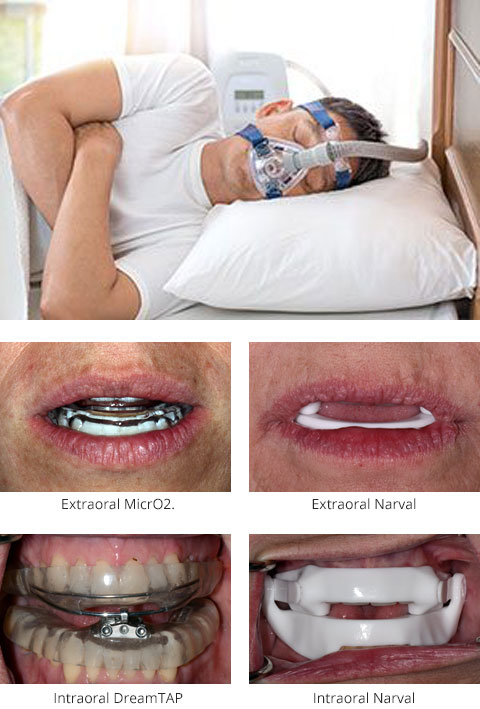 Oral appliance therapy encompasses the basic goals of a CPAP machine along with a number of additional advantages. Here are just a few of the potential benefits of oral appliance therapy:
The appliance is a small device that fits over the teeth and helps to keep the airway clear of obstruction. By slightly realigning the tongue and lower jaw while you sleep, an oral appliance is able to help you maintain normal airflow by keeping soft tissues and other oral structures from blocking air passages.
Oral appliances are similar in appearance to orthodontic retainers, sportsguards, and nightguards. They do not involve bulky facial appliances, long tubes, or noisy machines.
Oral appliances are completely customized for the best possible fit. They should feel comfortable in your mouth and not interrupt your normal sleeping pattern in any way.
These treatments offer the best of both worlds: effective snoring and sleep apnea treatment without the discomforts and annoyances that are so often associated with CPAP therapy.
Check Out Our Featured Article on Mimi Vanderhaven Magazine!


Co-Therapy
Oral appliance therapy can also help patients who may benefit from "co-therapy" with CPAP, BiPAP, AutoPAP therapy, or surgery. Co-therapy involves a combination of treatment modalities for OSA to yield the best results. Appliance co-therapy has the ability to lower PAP pressures in cases where the pressures are too high, which can cause side effects such as chest pain, mask leaks, or patient non-compliance with the treatment protocol.
Utilizing oral appliance therapy can also assist with surgical approaches such as septoplasty, turbinectomy, adenotonsillectomy, and even Inspire hypoglossal nerve stimulation therapy. Some individuals with sleep apnea have difficulty breathing through the nose and lack what's called nasal patency, so they tend to breathe through their mouths instead. For patients who are undergoing surgery for a deviated septum or enlarged turbinates (excess tissue inside the nose) that may be contributing to the lack of success of more traditional therapies, we often provide an oral appliance that can be used in conjunction with surgery to help. Oral appliance therapy is typically more effective when the patient breathes through the nose while sleeping, often making co-therapy for those who are being surgically treated for OSA with septoplasty or turbinectomy an ideal treatment protocol.
In addition, oral appliances can be used with PAP nasal pillows to eliminate the need for a mask type of PAP interface.
In addition, oral appliances can be used with PAP nasal pillows to eliminate the need for a mask type of PAP interface.
Additional Advantages of Oral Appliance Therapy
With the many medical and physical advantages afforded by oral appliance therapy, there are practical benefits as well. Oral appliances eliminate the need to lug around a CPAP machine (and its many components and accessories) while traveling. This can be particularly ideal for:
Business travelers who don't want to sacrifice a restful night of sleep while on the road.
Vacationers who want to thoroughly enjoy time away
Multiple home owners who spend time between various locations
Drivers with a CDL (Commercial Driver's License) – i.e. truck drivers, train operators, heavy machinery operators, taxi drivers, ride-share drivers, and others. Some states mandate compliance to treat OSA for these individuals, and oral appliance therapy can help with compliance in these cases.
By not having to travel with a CPAP machine (imagine having to explain CPAP to a TSA agent), an oral appliance can promote treatment when therapy might otherwise not be utilized. This will decrease the risk of serious adverse health risks and help you to feel well-rested while away from home.
One of the most important aspects of sleep apnea therapy is overall compliance with the treatment protocol. If a patient who is undergoing treatment with a CPAP machine finds that the technique is intolerable, they may cease using it altogether. Stopping treatment for sleep apnea can lead to serious, even life-threatening health risks.
With oral appliance therapy, it is often easier to fully comply with the treatment protocol because the treatment itself is so much more comfortable!
Am I a Candidate?
Candidates for oral appliance therapy can include:
Individuals diagnosed with Primary Snoring or Upper Airway Resistance Syndrome.
For individuals diagnosed with mild OSA, an oral appliance can be a first line therapy.
Individuals diagnosed with moderate or severe sleep apnea who prefer an alternative to CPAP therapy.
Individuals currently utilizing a CPAP machine who are having difficulty tolerating that method of treatment or complying with CPAP protocols.
Individuals who may require "co-therapy" – the use of both PAP therapy or surgery and an oral appliance – to maximize effectiveness or increase treatment compliance.
The best way to determine your candidacy is to come in for an evaluation by our experienced, AADSM Qualified Dentist. Dr. Desatnik can talk with you about your concerns and explore the best options available for your needs.Our office also accepts referrals from physicians who need to send their patients to an experienced dental sleep medicine professional. If you are a patient or a physician, we encourage you to contact The Northeast Ohio Center for Dental Sleep Medicine and a member of our team will be happy to assist you.
Types of Appliances
Since our practice is limited to appliance therapy for the treatment of OSA, we offer a variety of appliances to suit the unique needs of each individual patient. Many dental offices provide only one or two types of oral appliances for sleep apnea patients; our practice is intent on finding the option that will work best for the individual so that the treatment is not only effective, but also comfortable. Our customized oral appliances are designed with meticulous precision and take a number of different factors into account, including:
The form and shape of the teeth, jaws, and other oral structures
The level of OSA severity
Physician and patient preference
The state of current oral health and gum health
The potential need for future dental work beneath the appliance
The state of current joint and muscle stability
Patient dexterity for insertion/removal
The mechanism of action (described below)

Ultimately, the goal is to select an appliance that will meet your current needs while focusing on potential future needs. The idea is to choose an appliance which will be effective and comfortable, making it easier to comply with the treatment protocol. With our advanced options, we can create a customized oral appliance that maintains a positive flow of air throughout the night while providing a fit so form-stable and light that you should be only slightly aware of its very presence.We select the type and brand of available appliance based on each patient's unique needs. While we offer premium appliances by reputable laboratories, including Narval™ by Resmed, MicrO2® by ProSomnus®, and OASYS™, we also offer more generally available brand options such as TAP®, EMA®, Herbst™, SUAD™, and Dorsal®. The appliance we choose as the best solution for you will be selected very carefully to ensure that your needs are being met both effectively and comfortably.
Remember, the oral appliances available at our practice are not one-size-fits-all and do not involve cumbersome masks or noisy machines. They are specifically designed for your unique oral anatomy and to provide you with a healthier night's sleep without the disadvantages associated with CPAP machines.
Mechanism of Action
Mechanism of Action is a term that refers to how oral appliances commonly known as Mandibular Repositioning or Mandibular Advancement Devices (MAD) actually work. A simplified explanation is that an oral appliance essentially repositions the mandible and the hyoid bone in a slightly forward and down position during sleep, which prevents the potential for the tongue to block the airway.During your consultation, Dr. Desatnik will discuss the various types of oral appliances with you and determine which option will be best for your needs.