Our Approach & Our Passion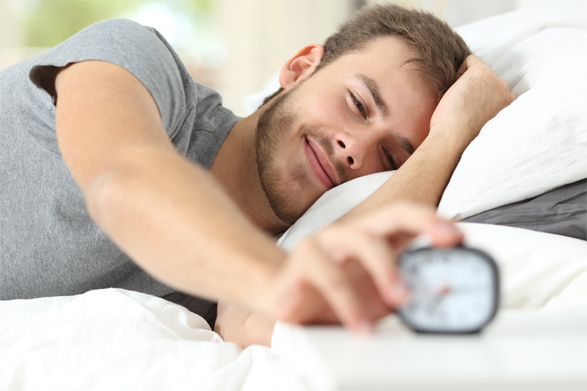 The Northeast Ohio Center for Dental Sleep Medicine is unique in many ways. As the only dedicated dental sleep medicine practice in the Northeast Ohio area, we focus on providing patients who suffer from snoring or obstructive sleep apnea with effective, non-invasive solutions that can improve their health and their livelihood. Dr. Douglas Desatnik is one of very few dentists in the area who has been designated as a Qualified Dentist by the American Academy of Dental Sleep Medicine.  An AADSM Qualified Dentist is considered one of the most important designations for dentists who offer oral appliance therapy for sleep concerns, and is one of the many distinctions that makes our practice stand out from others. While other dental offices may offer treatment for diagnosed cases of sleep apnea and snoring as an option among their overall selection of dental procedures, the Northeast Ohio Center for Dental Sleep Medicine is specifically focused on this particular area of dentistry.
Check Out Our Featured Article on Mimi Vanderhaven Magazine!


What we do here at the Northeast Ohio Center for Dental Sleep Medicine fulfills a critical need. For years, many patients who have been diagnosed with sleep apnea may have been under the impression that a cumbersome CPAP machine was their only option. Because of that, they may have even avoided treatment altogether, leading to life-threatening risks to their health. Fortunately, our practice offers a non-surgical, non-invasive solution.For patients who need treatment for sleep apnea and for those who are looking for an alternative to CPAP therapy, our extensively trained dentist and his professional team can help.
For doctors who are looking to refer a patient to another practice for oral sleep appliance therapy, we are a logical choice. The mission of the Northeast Ohio Center for Dental Sleep Medicine is to provide patients with a level of experience, knowledge, skills, and care that they may not be able to find elsewhere in the region. Our team is dedicated to fulfilling that mission by offering therapeutic, custom-fabricated oral sleep appliances designed to help patients achieve a better night's rest and lead an overall healthier life.
Adherence to Dental Sleep Medicine Guidelines
Together with the American Academy of Sleep Medicine, the AADSM has created a set of guidelines for dentists to follow when treating patients with oral appliance therapy. Dr. Desatnik and his team ensure that these guidelines are strictly applied here at our office. They include best clinical practices, definitions of effective oral appliances, treatment protocols, policy statements on the diagnosis and treatment of obstructive sleep apnea, and a position statement on portable monitoring devices. The two organizations have also compiled a list of potential complications or side effects with oral appliance therapy, and identified solutions to these issues.
Dr. Desatnik is committed to developing positive relationships with patients in need of effective CPAP alternatives as well as physicians who are looking to refer individuals to a qualified dental sleep medicine professional. We work very closely with physicians to create a customized treatment plan based on a precise diagnosis. We believe that this team approach, along with rigorous adherence to the joint guidelines stipulated by the AASM and the AADSM, assist us in providing patients with unparalleled care and results that can truly change lives.
Why Choose an Oral Appliance Over a CPAP Machine?
In many cases, patients opt for a CPAP (continuous positive airway pressure) machine following their diagnosis of sleep apnea. While these devices have been a standard treatment option for many years, the fact is that there are new techniques that eliminate many of the drawbacks associated with CPAP therapy. The oral sleep appliances available at our practice are customized for the best possible fit and the most effective results. Unlike the bulky, noisy CPAP machine, oral sleep appliances resemble orthodontic retainers. They are designed to fit comfortably in the patient's mouth while sleeping, ultimately helping them maintain a normal flow of air through breathing passages. These meticulously designed appliances are not one-size-fits-all treatment options; they are created with each patient's unique physiological needs in mind to provide effective treatment and a more comfortable experience.
Meet Our AADSM Qualified Dentist - Dr. Douglas Desatnik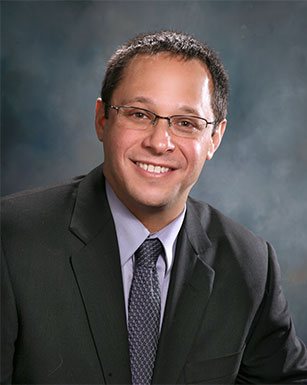 After graduating Cum Laude from the Ohio State University College of Dentistry, Dr. Douglas Desatnik opened Chagrin Highlands Dental Group, a general and cosmetic dentistry practice. He later took a special interest in the field of sleep medicine and oral appliance therapy, and realized that the Beachwood area did not have a dedicated dental sleep medicine office. Recognizing the need for high-quality care that is focused on more advanced solutions for sleep apnea, Dr. Desatnik immersed himself in continuing education courses to gain an extra level of clinical competency in comparison to other dental appliance providers in the Northeast Ohio area. His diligence and pursuit of additional training led to Dr. Desatnik's designation as a Qualified Dentist by the American Academy of Dental Sleep Medicine. Dr. Desatnik is one of the only dental sleep medicine providers in the Beachwood area who has achieved the AADSM Qualified Dentist distinction.
The AADSM was founded in 1991. It's mission is to advance the dentist's role in the treatment of sleep-disordered breathing through professional education, practice standards, collaborative care, clinical research, public relations, and health policy. Being designated a Qualified Dentist by the AADSM ultimately means that members are extensively educated on dental sleep medicine and are provided with technical skills and applicable training to benefit their patients' treatment.
Continuing Education & Memberships
Dr. Desatnik has chosen to dedicate a large part of his career to becoming an authority on dental sleep appliances for the treatment of obstructive sleep apnea and snoring. He has completed a variety of advanced education courses throughout the country, and continues to pursue additional education in order to stay abreast of the latest non-surgical treatments and techniques.
Dr. Desatnik holds membership in a number of prestigious dental organizations, including:
The American Academy of Dental Sleep Medicine (AADSM)
The American Academy of Sleep Medicine (AASM)
The American Dental Association (ADA)
The Ohio Dental Association (ODA)
The Greater Cleveland Dental Society (GCDS)
The Academy of General Dentistry (AGD)
Spear Education
The American Thoracic Society (ATS)
Advanced Technology
One of the many things that sets our practice apart from others who offer oral appliances for sleep apnea is our utilization of advanced technology. From the latest imaging systems to our own home sleep testing unit, the Northeast Ohio Center for Dental Sleep Medicine utilizes precise and efficient technologies that are often not available from many other dentists in the area who claim to make oral appliances for the treatment of obstructive sleep apnea.
3D Digital X-Rays with the Sirona Cone Beam (CBCT) System
The Cone Beam Computed Tomography (CBCT) system allows us to take a 3-D digitalx-ray of your oral structures in an extraordinarily precise and detailed way. This advanced imaging technology creates a high-definition picture of your bone structure and airway that enhances Dr. Desatnik's ability to analyze, diagnose, and create a treatment plan that has the best chance of yielding the best fit and most effective results from your customized oral appliance.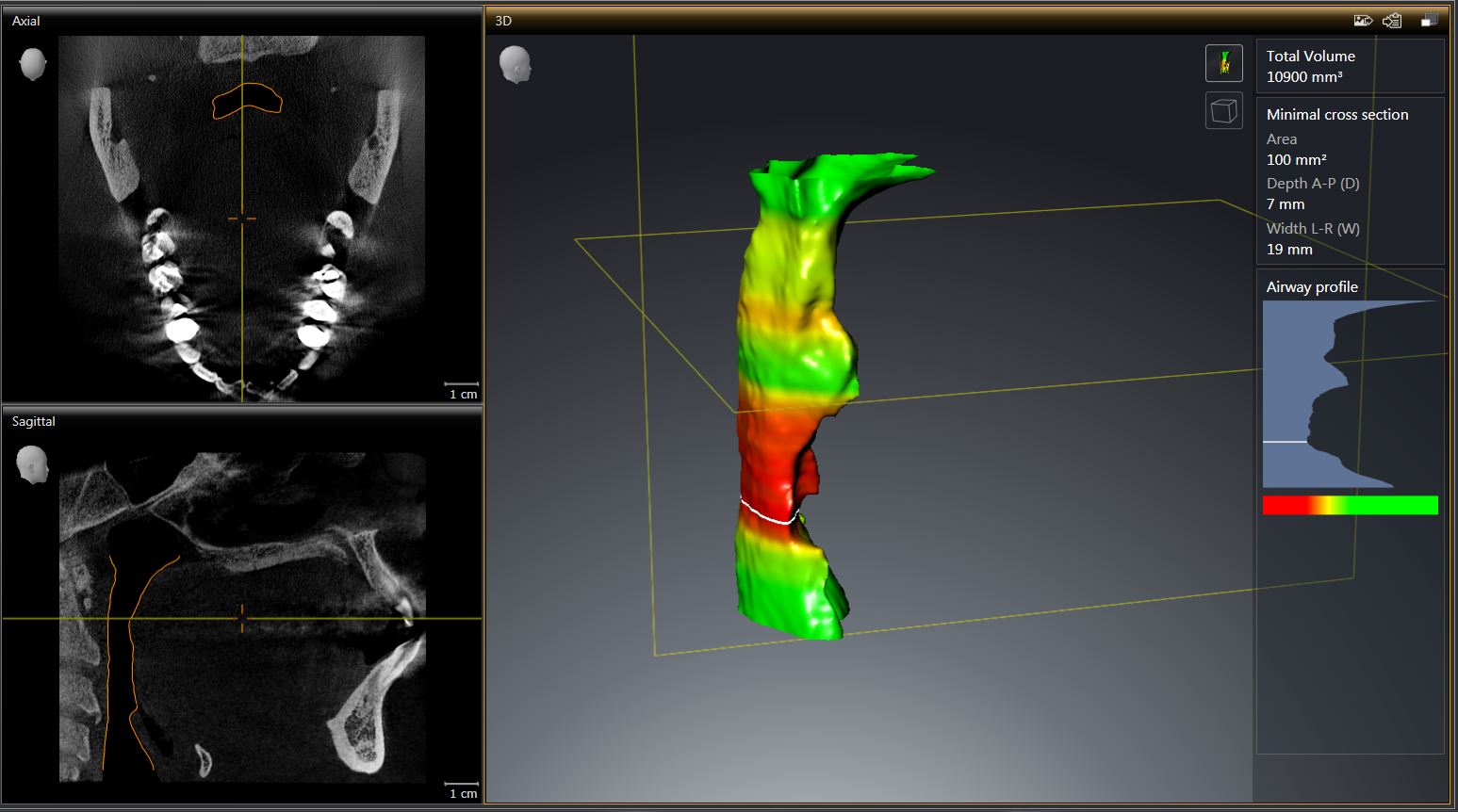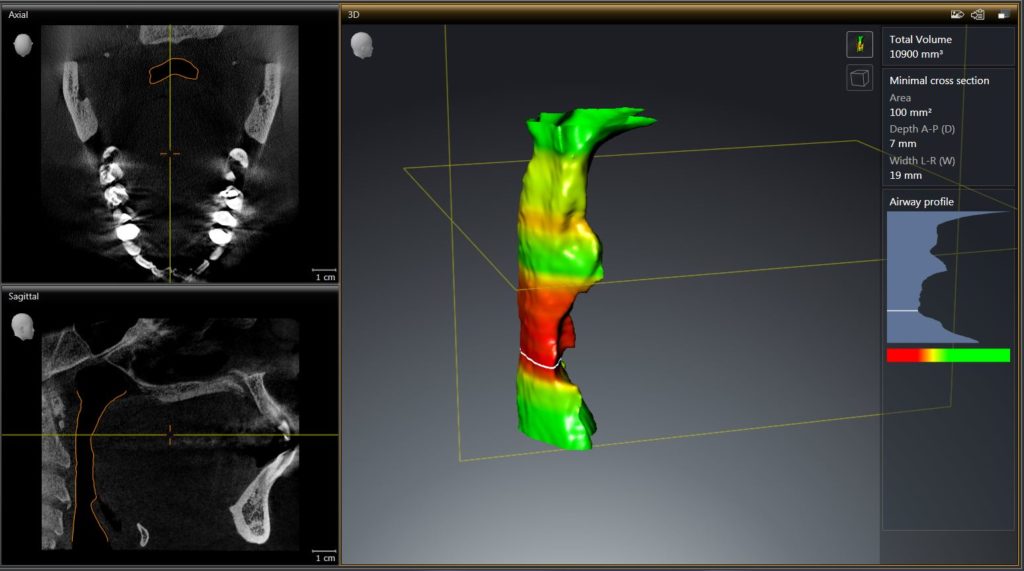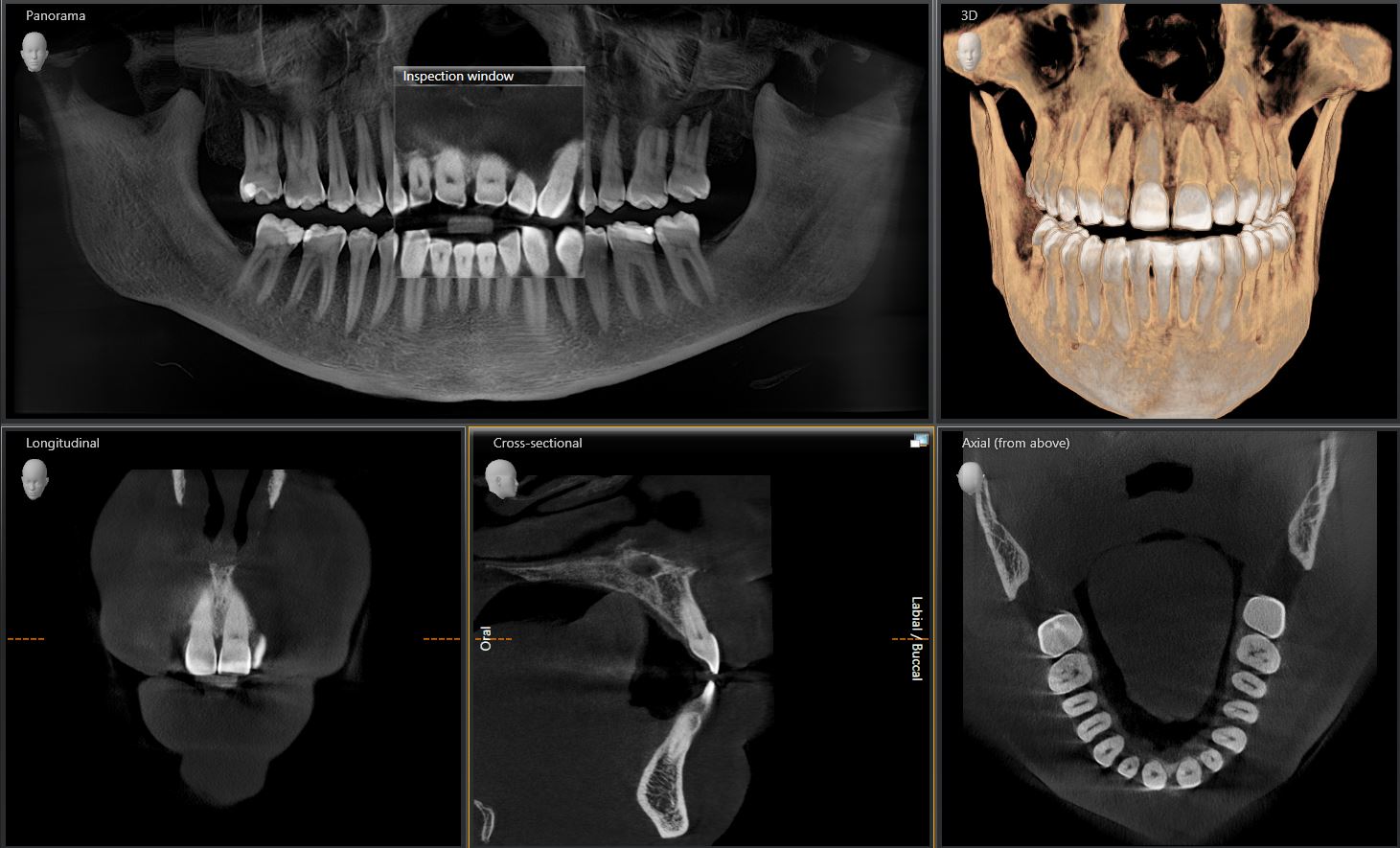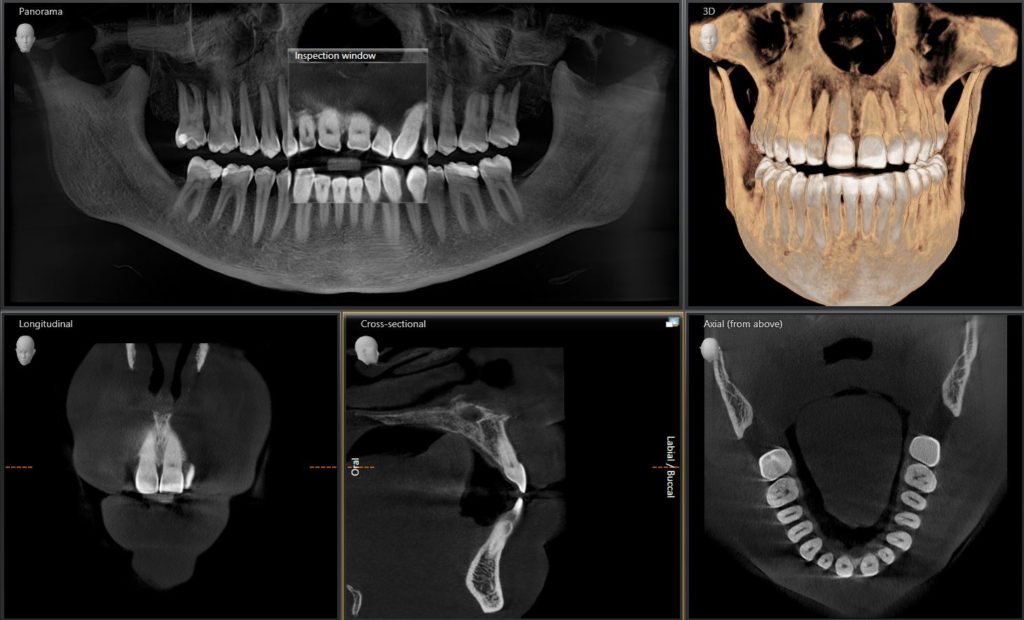 CEREC® Digital Impressions
Dental impressions are the best way to get the most precise measurements of your unique oral structures in order to create a comfortable, well-fitting oral appliance. In the past, impressions involved a rather lengthy, cumbersome procedure utilizing a messy putty to form the mold. Our office can streamline the process and eliminate the need for a putty impression with the renowned CEREC® digital impression system. These types of impressions require a simple digital scan of the teeth and gums, which creates a precise and detailed image on a computer. The image can then be sent electronically to designers at the dental laboratory, where it will be used as the model for a new oral appliance. Digital impressions are designed to enhance accuracy and make the process faster and more efficient.
Acoustic Pharyngometry/Rhinometry
The Acoustic Pharyngometry and Rhinometry technologies from Eccovision® are known to provide a fast and accurate way of identifying problems with the airways and determining the correct solution. The Acoustic Pharyngometer utilizes reflected sound waves (similar to sonar) and special software to create a visual map of the airway to assist in analysis and to visualize changes in the cross-sectional areas of the airway. This allows Dr. Desatnik to examine its narrowness and potential for collapse, issues that are often present in patients with Obstructive Sleep Apnea. This technique is non-invasive and takes just minutes to complete.
With this advanced imaging system, Dr. Desatnik can quickly obtain precise measurements of oral airway stability and size, allowing him to eliminate any guesswork and increase the chance that the custom oral appliance will be as effective as possible.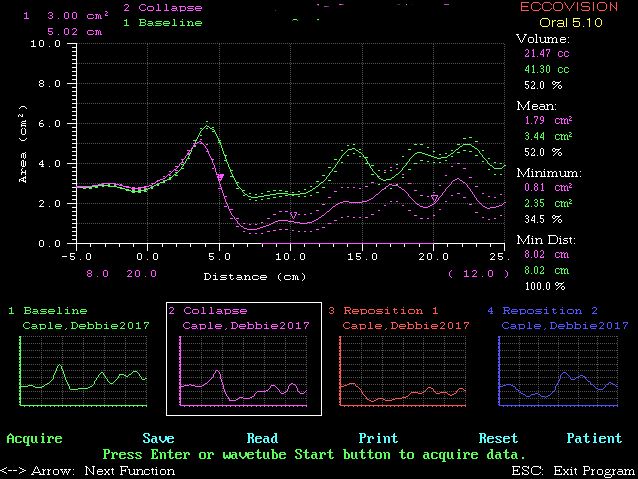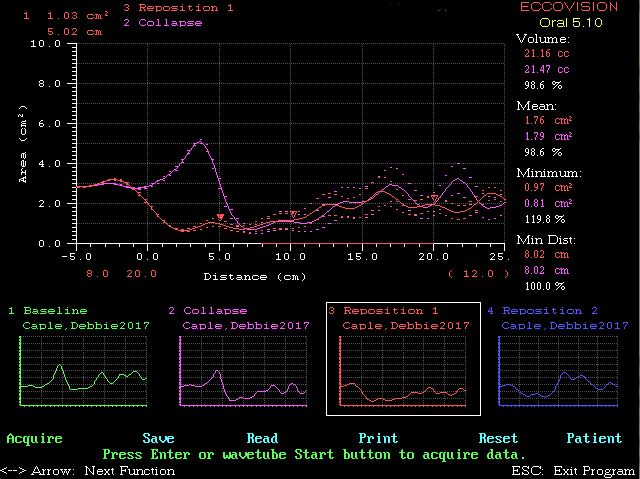 Home Sleep Testing
The Northeast Ohio Center for Dental Sleep Medicine can provide many patients with an at-home sleep test, which can help you avoid the inconvenience of having the test at a sleep laboratory. Once the test has been completed and a diagnosis of sleep apnea has been made by a physician, our dentist can explore treatment options with you. Our advanced home sleep testing kits can ultimately make the diagnostic process for sleep apnea more streamlined and efficient.
The WatchPAT home sleep test is an FDA-approved device that is known as one of the easiest-to-use sleep testing technologies available. The device is simply and painlessly worn around the wrist like a wristwatch, which is connected to another small device that fits onto your index finger. During sleep, the WatchPAT will measure changes in arterial pulsatile volume at the fingertip, which can track events such as respiratory disturbances and others that may indicate Obstructive Sleep Apnea. The WatchPAT can provide a comprehensive assessment of your sleeping stages and the events going on in your body that can help a physician obtain an accurate diagnosis of OSA.
Contact The Northeast Ohio Center for Dental Sleep Medicine
With a combination of experience, training, state-of-the-art treatment options, and a commitment to providing the highest quality of care, the Northeast Ohio Center for Dental Sleep Medicine strives to be the best choice for sleep apnea and snoring solutions in the area. If you would like more information, please contact us today. We will be happy to answer any questions you may have.